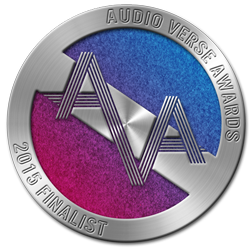 We've received two nominations for the 2015 AudioVerse Awards!
Best Actor with a Leading Role in an Original, Short-Form, Serial Production: David Ault as Byron in The Byron Chronicles
Best Original, Short-Form, Large Cast, Serial Production: The Byron Chronicles
Vote your choices at: http://www.audioverseawards.net/site/vote/
---
On release of the final episode of The Byron Chronicles:
I original came up with the idea for Byron back in 1995. 20 years ago. And now after several years, the story has reached it conclusion. This is the final tale of the Paleman.

My thanks go out to everyone. But most importantly David Ault who played Byron all these years. Tom Beal who played the original Byron and supported my ideas and the website. And Mindy Rast-Keenan who took my final monologue of the series and really put a far better take on it than I wrote and made it truly magical.

To Midnight Syndicate, Shadow's Symphony and Kevin Macleod for the use of their musical scores in the making of this.

As well as everyone who ever help me in the making of this series. Without you, it would never have come to be. I'm quite proud of this series and what we have created together.

– Eric Busby
---
Greetings and welcome to Eric Busby Presents.
I'm Eric Busby. I am a writer and a producer of audio dramas such as The Byron Chronicles. Audio is a medium I work very well in. These services are also for sale. If you have a project that you want given a professional edge, feel free to drop me a line and we can discuss what it is you're looking to have done.
So feel free to look around and give a listen to my new audio series, Cascade.