Podcast: Play in new window | Download (Duration: 31:38 — 43.5MB)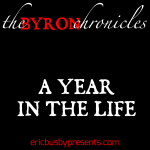 This episode of The Byron Chronicles – A Year in the life is dedicated to the life and memory of Bill Hollweg. A dear friend who has left us far too soon. He shall be missed.
The Pale Man unites with the other members of his family as the dark god, Croatoan, destroys the Roman Empire with an army of the dead.
Written by Eric L. Busby and Mindy Rast Keenan
Featured in the cast were
David Ault as The Pale Man
Carissa DeWhitt as Max
Mindy Rast Keenan as the Mistress
Mark Bruzee as The Steward of Winter
Jessica McEvoy as The Steward of Spring
Molly Urban as The Steward of Summer
Philip Webber as The Lord of Death
With Karim C. Kronfli
Announcer is Darren Marlar
Music by Kevin Macleod and Adrian von Ziegler
Byron Theme by Kai Hartwig
Script edited by Daniel Caicedo
This episode was produced, directed and engineered by Eric Busby.
Copyright 2017