Podcast: Play in new window | Download (Duration: 21:15 — )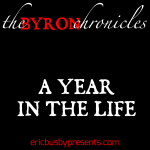 It has long been known that the Pale Man causes the Roman Empires collapse. But how did that happen? Why was it Byron fault? In a Time of Rome… That story is told.
Written by Eric L. Busby and Mindy Rast Keenan
Featured in the cast were
David Ault as Byron
Carissa DeWhitt as Max
Mindy Rast Keenan as the Mistress
Mark Olson as the Emporor
Philip Webber as Death
Cary Michael as the Gladiator
Sam A. Mowry as the Solder
And Karim C. Kronfli
with Darren Marlar as the Announcer
Announcer is Darren Marlar
Music by Kevin Macleod
Byron Theme by Kai Hartwig
Script edited by Rick Myers
This episode was produced, directed and engineered by Eric Busby.
Copyright 2016