Podcast: Play in new window | Download (Duration: 38:01 — 52.3MB)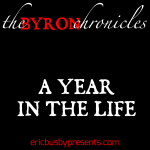 On the eve of Christmas the world stands upon the brink of annihilation. And Byron is powerless to stop it from happening.
Featured in the cast were:
David Ault as Byron
Natalie Van Sistine as Hadley Price
Karim C. Kronfli as Croatoan
Carissa DeWitt as Max
Mark Kalita as The Vaudeville Man
Peter Joseph Lewis as Mister Logan
Darren Marlar as Lord Nicholas
Nichole Goodnight as Leviathan
Clym Angus as Dracula
and John Longenbaugh as the Professor
Music by Simon Wilkinson, Kevin Macleod and Adrian von Ziegler
Byron Theme by Kai Hartwig
Script edited by Daniel Caicedo.
This episode was produced, engineered and directed by Eric Busby.
Announcer is Mark Bruzee.
Copyright 2017