Podcast: Play in new window | Download (Duration: 18:57 — 26.1MB)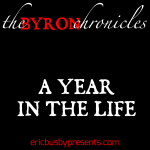 Written by Rick Myers and Eric Busby
After the events with the Reality Stone. Byron only has one year to live. On a snowy day in January he is presented with an old book containing a tale of his past.
David Ault as Byron
Carissa DeWhitt as Max
Viktor Aurelius as Micheal
Elie Hirschman as John Dee
Dayn Rusell Leonardson as Mister Doyle
Rick Myers as The MI-15 Agent
Kevin Tremblay as Tucker T. Schwab
and Karim C. Kronfli
Music by Kevin Macleod
Byron Theme by Kai Hartwig
Script edited by Rick Myers
This episode was produced and directed by Eric Busby.
An Eric Busby production.