Podcast: Play in new window | Download (Duration: 18:23 — 25.3MB)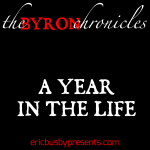 Written by Warren Onufer and Eric L. Busby
The Vampire Hadley Price call upon the Pale Man, to try and discover what has become of The Hand.
Featured in the cast were:
David Ault as Byron
Natalie Van Sistine as Hadley Price
Carissa DeWhitt as Max
Dayn Rusell Leonardson as Mister Doyle
and featuring Karim C. Kronfli
Announcer is Darren Marlar.
Music by Kevin Macleod
Byron Theme by Kai Hartwig
Script edited by Rick Myers
This episode was produced and directed by Eric Busby.
An Eric Busby production.
Copyright 2016.